Dog Walking & Potty Breaks Services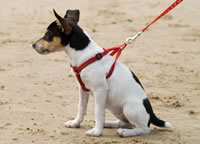 Dogs love a mid-day walk
and potty break.
Dogs Thrive with Plenty of Fresh Air and Loving Companionship
Is your beloved dog cooped up at home all day - with nowhere to run, nothing to sniff, anxiously waiting for your return from work? We love our pets, our pets love us, but sometimes there just isn't enough time in a hectic schedule to personally give them the exercise and attention they need when they need it.
Dog Walking
Your dog can enjoy a refreshing 30-minute walk with all the sniffing he desires to keep him physically and mentally happy. Your Paws-A-Moment dog walker will tailor you dog's walk to his preferences - whether it's a leisurely stroll or a high energy romp. He'll get lots of loving attention and have a great time. We carry water with us at all times and make sure your dog isn't walking on pavement that is too hot for his feet.
Potty Breaks
If your pet simply needs a potty break during a long work day, or if you're working late, etc. we can stop by for 15 minutes, so your pet doesn't have to cross his legs all day!
If you're working long days, have a high-energy dog or your dog loves socializing check out our dog daycare services.
Service Area
Rio Rico, Nogales, Amado, Tumacacori, Tubac, Green Valley, Arizona.
Make your dog walking or potty break reservations online or call 520-988-0994 now.
For more information and to arrange a meeting or tour of Paws-A-Moment facilities call 520-988-0994 today.