Boarding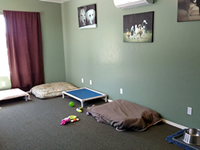 Doggie guest room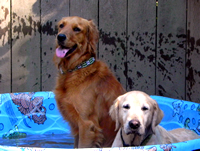 Dogs love cooling off in the pool.
Dog boarding in our home
Your dog will be free to run and play with others throughout the day and sleep in the comfort and security of the pack at night. The sleeping area, complete with iCalmDog soothing music, toys, and comfy beds will make your dog feel right at home.
We do have a couple of crates for dogs who are used to sleeping in the, and you are welcome to bring your dog's own crate if you prefer.
Dogs Love All the Individual Attention
Your dogs will enjoy lots of individual attention in our small, home-based facility. Whether your dog is timid or outgoing we'll work with his/her individual needs. You can relax knowing your best friends are safe, having fun and not lost in the crowd of a huge kennel operation.
Day care guests get plenty of time to run, play, sniff and visit with canine "buddies". Your pal will be happy, well-exercised and ready to greet you with wags and kisses upon your return.
AS THIS IS OPEN BOARDING, DOGS MUST BE SPAYED OR NEUTERED
Need a little extra time to pack for your trip? We can pick your dog up from you home and return him/her to you. Based on availability.
Outdoor Play Areas
Outside, dogs get plenty of exercise in the fully-fenced yard that has synthetic turf and shade for your dog's comfort.
Food
Your dog will feel at his best when eating the same food he enjoys at home. Please bring enough pet food for your dog's entire stay. We provide bedtime cookies, but you are welcome to bring your dog's own treats as well. Is your dog on a raw or dehydrated food diet? No problem! We can safely store and prepare most any type of food.
Tours
Tours are available by appointment only. We strongly encourage everyone to visit before using our services. You are welcome to bring your dog along to sniff things out for himself!
Watch Your Dogs Play
Join us on Facebook to follow your dog's activities while you're away. Pictures are posted several times a week, so you can check in on your dog's "vacation".
Contact us or use the convenient online reservation form to schedule a day or several days of fun for your canine pals. All guests at Paws-A-Moment must have completed forms on file and be up-to-date on all vaccines, including bordatella (kennel cough).