Pet Sitting Services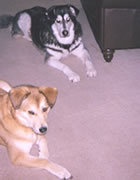 Smokey and Ginger enjoying
in-home pet sitting services.
We will come to you!! In-home visits to your dogs, cats, birds, etc.

Relax - Your Pets Will be Happy and Well Cared For
In-home pet sitting allows your pets to enjoy the comforts of home while you are away. As many pets prefer being in familiar surroundings, we will visit your pets in your home. Do you have a menagerie of critters that need to be cared for but no one you can count on (or impose on) for the length of time you'll be away? Now you can relax knowing they'll be happy, well cared for and get plenty of loving attention while you are away.
Your Paws-A-Moment pet sitter loves dogs, cats, birds, reptiles and other house pets and can visit once or twice a day - to suit your needs. When hiring any in-home pet sitter, be sure you are using a licensed, reputable company with good references. Paws-A-Moment has many references from clients. A list will be made available to you at your request.
In-home pet sitting visits include:
| | |
| --- | --- |
| • | Fresh food and water for all your pets |
| • | Bringing in your mail |
| • | Turning off/on lights |
| • | Watering plants |
| • | Cleaning litter boxes |
| • | Lots of hugs and love for your pet! |
Service Area
Rio Rico, Nogales, Amado, Tumacacori, Tubac, and Green Valley, Arizona.
Types of Pets
In-home pet sitting is available for dogs, cats, birds, reptiles - just about any type of pet. Not sure? Please give us a call!
Holiday periods fill quickly so make your reservations as early as possible for the best selection of dates.
Make your pet sitting reservations online or call 520-988-0994 now.
For more information and to arrange a meeting or tour of Paws-A-Moment facilities call 520-988-0994 today.